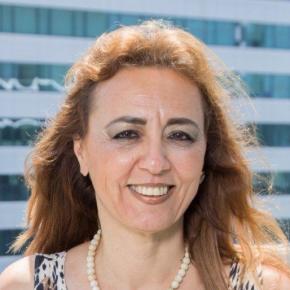 Dr. Nili Naveh began her technological career in the I.D.F and was part of the development teams for applications in advanced technological fields, starting from the perspective of development and the integration of advanced systems into existing systems. Her last job was head of project which develop simulation systems.
 Upon completion of her position in I.D.F, Dr. Nili Naveh takes part into the business world. She has been engaged in technology, innovation and solutions for clients and organizations for nearly 40 years. Her Technological knowledge gives her ability to identifying innovation and addressing the relevance of the organization as a key player in the market.
She has vast experience in management and leading staff of various sizes to excellence in achieving the organization goals.
Her act is Systematic and strategic vision, with high performance capability
In the last 12 years she served as a Director of Business Development and Technological Projects in one of the five biggest IT Company in Israel.                    
Overall responsibilities for - Business development, negotiations with customers, cooperation together with - Locating technological innovation and innovative technological solutions, while competitive in the following areas: Cyber Security; Communication, system, Analytic, Cloud-Saas; Iaas, Paas.
Her work is characterized by Using advanced work plans methodologies, determining success indicators and meeting measurable goals, together with leading technological projects from the design stage through the development of advanced information systems environments.
In addition to her work in the business market, Dr. Nili Naveh is involved in technological education in Israel. She has written and authored curricula, lectured at colleges and academia for many years, and takes part in the implementation of innovative software programs in Israeli schools.
For ten years she worked in the field of technological education networks in Israel, both in leading technological schools, integrating the industry in education, introducing innovation into the learning system and developing projects by students.
In her last position she served as VP of pedagogy and technology in a national educational network - the second largest in Israel.
Dr. Nili Naveh's heterogeneity of work - a combination of education and a business market - is characterized by the constant search for innovative technology and the ability to identify new technology relevant to the organization, with the goal of advancing it to achieve its objectives.
The expertise of Dr. Nili Naveh is expressed in the business development of organizations, while adapting innovation to the nature of the organization and its activities.
"To be relevant" - means not only the discovery of innovation, but the ability to choose the advanced technology, from the vast collection of new technologies that arise day and night, suitable for the organization and assimilate it while dealing with the objections that are created. The assimilation of a new technology is the key of success innovation, not the innovation itself.
Therefore, the wisdom lies in creating methods and methods that incorporate the innovation in the organization while leading it to change without losing its strength in the market.